#BG is FREE
After ten months into a nine-year sentence in Russia, eight-time WNBA all-star Brittney Griner is back home. Griner, 32, was traveling to Russia to rejoin her professional team UMMC Yekaterinburg, where she played during the American off-season. Thursday, December 9, 2022, President Joe Biden announced that his administration has carried out a prisoner exchange to get the basketball player back. In exchange for Griner, Russia received Viktor Bout; a Russian arms dealer sentenced back in 2012. However, there remain many conflicting opinions about this exchange.
In February of 2022, the Phoenix Mercury player was detained at Sheremetyevo International Airport in Moscow. Russian Federal Customs Service had found vape cartridges containing marijuana concentrate hashish oil in her luggage. In Russia, possessing more than seven grams of marijuana is considered a serious criminal offense. On the other hand, Griner had 0.702 grams, an amount punishable by a 5000 ruble fine or 15 days detention. Trials scattered from March to November for Griner underwent heavy delays due to Russia's invasion of Ukraine and the war progressing between the two countries. Lawyers and government officials worked around the clock to ensure Griner's prompt return. "After 294 days of tireless work… our friend, sister, loved one. Brittney Griner is FREE. We love you, BG," the WNBA official account tweeted the morning of her release.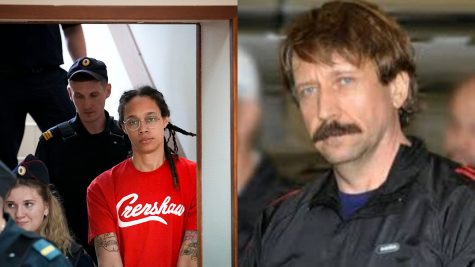 While the United States is rejoicing at the return of the two-time Olympic medalist, the Russian government is also celebrating. Serving less than half of his 25-year prison sentence, the Russian arms dealer, Viktor Bout, is free. He was convicted of illegally purchasing aircraft, wire fraud, and money laundering before his arrest in 2008. Bout was on the list of Most Wanted Men in the world before his detention by US undercover agents in Thailand. His nickname, The Merchant of Death, stems from him having been accused of dealing weapons to The Taliban, rebel groups, and warlord Charles Taylor. This exchange has resulted in a widespread feeling of unsettlement throughout the United States, leaving people wondering if Bout threatens their safety.
While she was in prison, Griner received support from people all over the world. #FreeBG took to social media, calling for assistance from the government to bring their beloved player home. During game two of the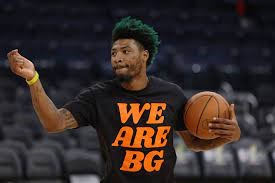 NBA Finals, the Boston Celtics wore black and orange shirts with the words "We are BG" plastered in front. On the back of the shirt? A QR code linked to a Change.org petition titled "Secure Brittney Griner's Swift and Safe Return to the U​.​S." Although Griner's return to the United States was not swift, she is safely home and eager to spend time with her family and team.