The Class of '23 Dominates the Stage
This Bottom was on top as Union Catholic's Performing Arts Company performed Something Rotten! for two consecutive weekends. The weekends of March 24th and 31st transported viewers back to Renaissance Europe with a fun and fresh twist. The show follows brothers Nick and Nigel Bottom, two struggling writers competing with Shakespeare for the hottest piece of literature. UC PAC's performance had the audience on their feet by the end; however, it was elevated by the dominant force, which was the senior class.
Kevin Caffrey '23 is no stranger to the spotlight, having previously played various leadership roles in UC's PAC. Having landed a lead role as Mr. Green in Clue his Freshman year, Caffrey has donned various leadership roles since. On top of being president of the Performing Arts Company, he has starred in High School Musical as Ryan Evans, Crank in "Snow Angel," and Jesus in Jesus Christ Superstar. His experience was prevalent, able to portray different emotions at the drop of a hat.
Xavier Santangelo, as Nigel Bottom, stepped into his first lead role easily, playing the role of a hopeless romantic. Santangelo has appeared in various shows, such as UC PAC's production of Jesus Christ Superstar. His chemistry with on-stage counterparts is what is most notable about him and his acting style. It seemed genuine, allowing the audience members to be immersed in Renaissance Europe.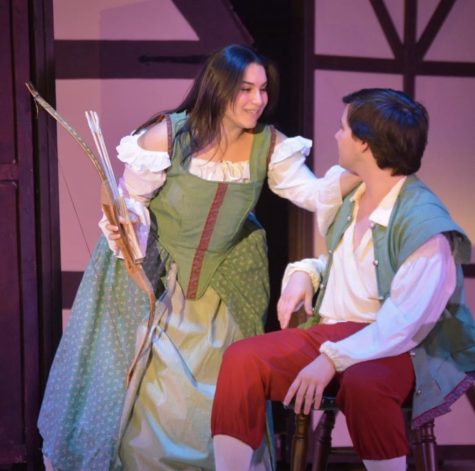 Anna Diniz Lonzetti '23 played the role of Nick Bottom's wife, Bea, with a fresh attitude. Her character was bent on breaking the gender roles normal for women during the Renaissance period. Bea juxtaposes the women in Shakespeare's plays: submissive and blindly devoted to their male counterparts. Her sensible devotion to her husband was the driving force behind various actors' characters. Lonzetti brought effortless comedic relief when situations seemed otherwise hopeless. Her singing came effortlessly with healthy belts. These belts allowed her to emphasize her role in the musical.
Ashley Almeida brought lively energy to the role of a preacher's daughter. Acting as Portia, she was rebellious in an innocent way. Her desire to experience the delicacy of poetry humanized those in history that were typically seen as strange. Almeida's soprano singing voice allowed her to be seen as slightly ditzy up until the climactic moment of the musical. She has previously starred in Jesus Christ Superstar as Matthew the Apostle and Ethel in Snow Angel. These characters are played with such excitement and love for acting that not many could replicate.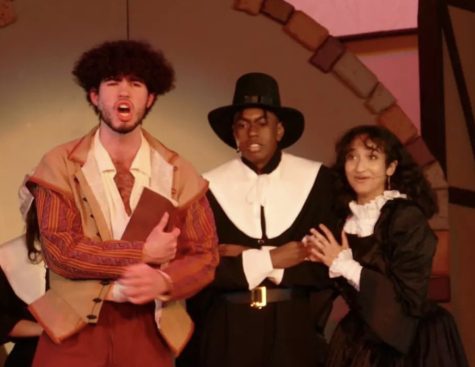 Erin Bonner '23 as Nostradamus captured the audience's attention with vibrant enthusiasm. Audience members were on their feet after her eccentric performance of "A Musical" barely half an hour into the show. She has a talent for connecting with audiences and making them feel like they are a part of the show. Bonner plays dramatic characters on stage, with roles such as Sharpay Evans in High School Musical and Pointus Pilate in Jesus Christ Superstar. Her onstage presence is unique to the UC stage, adding her unique personality to every role she takes.
Jane Howlett is a veteran of the Union Catholic Performing Arts Company. She stepped into the role of Lady Clapham with the poise of an authentic Renaissance woman. Her character provided a brilliant contrast to the comedic show.
Caitlin Wong has an impressive range and served as an impressive storyteller, having been one of the first characters we meet in Something Rotten! She is an experienced singer, boasting a resume of various shows and performances in her band Veil.
Throughout their years at Union Catholic, these students have given fantastic performances with a wide range of storytelling and themes. Their presence will surely be missed as they prepare for a new chapter in their lives.