Playa Bowls: A Delicious Jersey Success Story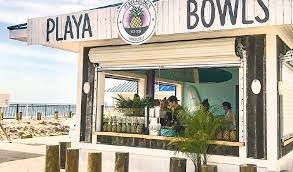 The smell of bananas and honey greets customers as they walk through the Door. The workers welcome hungry visitors
and ask, "What can I get for you today at Playa Bowls!" Playa Bowls has been a business for many
years. The restaurant's food is always made with fresh fruit and sold at reasonable prices. Playa Bowls seem to be
everywhere!
Playa Bowls are located in many areas of New Jersey. However,
Robert 
Giuliani and Abby Taylor
Ocean County opened
the first store in Ocen County
. The Playa Bowls™ idea was the brainchild of its creators, longtime surfers, and Jersey Shore residents Robert Giuliani and Abby Taylor. Giuliani grew up surfing in Ocean County, while Taylor grew up in Ocean Township, both in Monmouth County.
The Ocen County location was just the beginning
of their business.
Playa Bowls has been a growing enterprise for a long
time.
The store in Cranford, NJ, has become a popular spot.
The
venue is located right in the middle of the downtown area.
The colors and signs are eye-appealing and attract many
customers. As word spread of this creative and intuitive pop-up
stand, more and more flocked to stand in line in Cranford and see
what Playa Bowls was all about. The prices are reasonable
and not overpriced. Many townspeople say that this spot is
colorful and refreshing.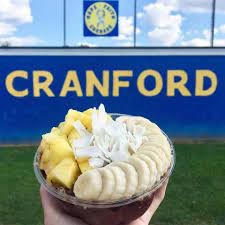 Now, there are many Playa Bowl stores
around the county and the world. Giuliani and Taylor,
who started the whole business, were surprised by the growth and success
of their stores. They thought that it would have been a tricky business to get going, but it turns out that
many people love the refreshing food.
The Playa Bowl owners said t
hey were inspired by traditional summer fare they found on surf trips to Panama, Costa Rica, Nicaragua, Puerto Rico,
California, and Hawaii. Almost every exotic surf town they visited offered its unique version of an
acai or pitaya bowl. They decided to recreate their favorite recipes with their own twist at home at the
Jersey Shore; the business took off from there.
With their affordable, refreshing treats, Play Bowls welcomes
more and more customers daily. The staff at each location is
welcoming and full of smiles. The fruit is always fresh, and making
the bowls does not take much time. This treat is especially good when a cool down is needed in the summer
. Giuliani and Taylor
started a great business, bringing delicious food and satisfaction to many hungry customers.