Kris Kirchner: Lady Viking Extraordinaire
The scoreboard buzzer sounds, and cheers erupt, echoing through the bleachers like a hymn. With the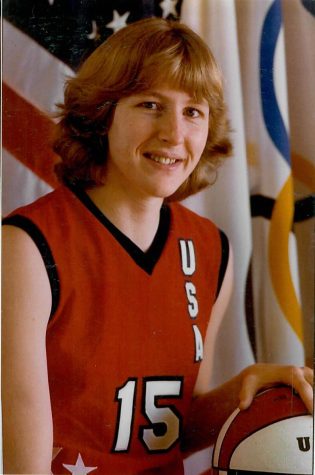 score tied at halftime, the Scotch Plains Raiders head to the locker room to discuss the next half's strategy. On the other hand, Union Catholic's Lady Vikings stayed on the court as a podium was rolled out. An unveiled banner hung above the podium in waiting. UC's alumni director, Nancy Foulks '76, began a speech about her former teammate Kris Kirchner '77. "Kris was never about the spotlight; she was all about her family, coaches, and teammates," said Foulks, '76. On this day, however, family, former teammates, and coaches gathered to celebrate the former Olympian posthumously.
Team captain and a part of the one thousand points scored club at Union Catholic, Kirchner '77 was a leader on and off the court. She attended the University of Maryland for three years averaging roughly 20.9 points and 12.1 rebounds per game as of her Junior year. Then her senior year, Kirchner '77 entered the transfer portal. Although her reason for transferring was for a collection of reasons, the main reason to transfer was for proximity to her family. "My family had played second fiddle for too long," she Kirchner '77, in an interview with the New York Times. Kirchner landed at Rutgers University, a 30-minute drive for her family. Her talent was undeniable as she was one of 12 women to be selected for the 1980 women's Olympic basketball team. As her former UC coach Kathy Matthews said, most people remember that she "was a class act that was a pleasure to coach."
This year, family, former teammates, and friends traveled from near and far to celebrate the Olympian at her alumnus high school. After Kirchner's '77 loved ones made speeches, the banner was dropped in the UC gym. The crowd erupted again in thunderous applause; this time, however, it was not for the Union Catholic Vikings. It was for Kirchner '77 and the person that she was. As a basketball player who witnessed the celebration, it was truly touching to see how many of her former teammates came back to Union Catholic despite the distance that many traveled. Considering that Kirchner '77 graduated more than forty years ago, the commitment truly shows the impact one person can have on a community. Community, one of the core values at Union Catholic, is strengthened by people like Kirchner '77. Even decades later, Kirchner '77 still packs the stands with her biggest supporters.