UC Students Celebrate Philanthropy Day
On Friday, March 3rd, 2023, students gathered around the school for various SDSN activities. Clubs at UC held activities that pertained to their club's general interests with an underlying theme of Philanthropy. Philanthropy, defined as the desire to promote the welfare of others, supports this Lenten Season as we approach the resurrection of Jesus Christ. Clubs planned donation drives, organized events, and embraced their diverse cultures.
Environmental Club Presentation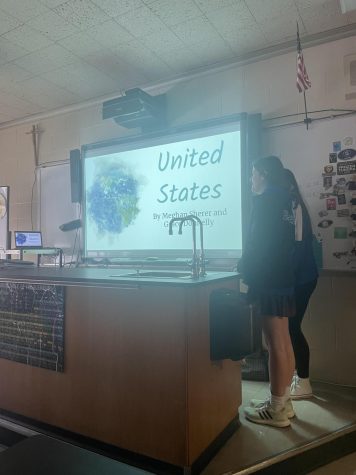 Environmental club members worked in pairs to spread awareness of the rising threats to the ecosystem. The students in this club brainstormed ways to protect God's creations and presented the current problems each researched country faces. The possibility of irreversible damage to the ecosystem is intimidating; however, the students of this club aim to find solutions. Meghan Sherer '23 has been in the club since freshman year and has sought out creative ways to get people involved in the protection of nature. "We are currently holding a community-wide battery recycling campaign. If batteries aren't disposed of properly, the build-up can send toxic chemicals into our surroundings and pose serious health threats." This club emphasizes the importance of caring for the world around us for future generations.
Women in STEM Project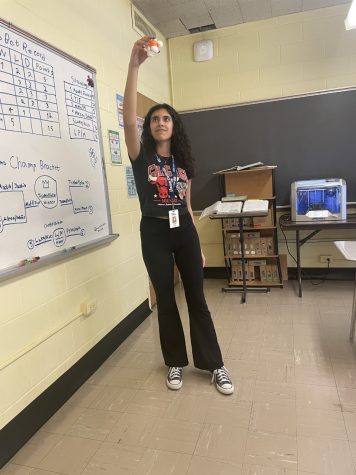 Girls gathered in room 230 to brainstorm their latest project. Saint Bartholomew's Academy in Scotch Plains is beginning to create more STEM-focused classes. The UC's WSTEM club members planned out their latest experiment kits to send to the K-8 school. "Helping kids grow up in a scientific environment is important. These experiment kits have the purpose of helping them to explore their interest in a field where it is needed", UC Senior Emma Ruela stated. Ruela co-founded the club with Isabella Ruiz and Adela Rakoski with hopes of increasing the number of girls interested in STEM-related careers. "The college I am attending, NJIT, has a ratio of 7:3 in favor of men in the STEM field. Initially, I was discouraged, but knowing I could help integrate women into the field, I thought it was awesome," Ruela concluded.
Bubble Tea with the Chinese Calligraphy Club
Many Union Catholic students gathered to enjoy making bubble tea. A table was set up in front of the classroom, and students were seen boiling the tea and filling their cups with different flavors of bubbles. Although boiling the milk and sugar seemed easy, Mrs. Wen assured us it was anything but. "It's hard," The Mandarin teacher and Moderator of the Chinese Calligraphy Club explained, "It's about finding that balance between sweet and bitter." This lesson seemed to apply to both the beverage and life. Spots in the activities held by the Chinese Calligraphy Club are always hard to come by as students race to participate. "This club has a hands-on approach that allows students to learn about Chinese culture uniquely," Caroline Evans '23, stated. Having been in the club for quite some time, Evans has witnessed the club's popularity skyrocket. Be on the lookout for upcoming events from the Chinese Calligraphy Club!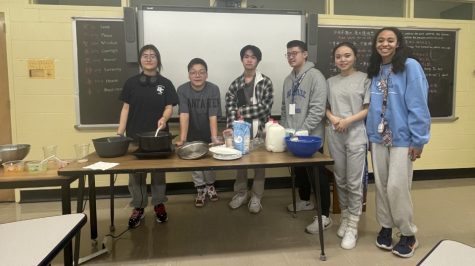 Three-Point Contest with the Boy's Basketball Team
During the SDSN activities, the UC boys' basketball team hosted a three-point contest where students could compete against each other on each end of the court. This activity was one of many of Friday's SDSN (Scheduled Dedicated Student Needs) that brought the UC community together. The enthusiasm could be felt throughout the entire school, much to the pleasure of the Boy's Varsity Basketball Head Coach, Dr. Reagan, "We all had different kids and grade levels. Really excited cheering the kids on and bringing the school community together."
African American Club
The activity hosted by the African American Club was a talent showcase/ spoken word. This was one of many activities this club hosted to celebrate Black History Month. The populated club was calling for all hidden talents within the group to be displayed with music and dancing. It brought the club together and presented the diverse talents of the African American club to the UC community. We were able to ask a few students some questions about their involvement in the club.
Why did you take over this club?
Sinclair Powell: "I decided to take over this club because I wanted my community to be seen within this school. I wanted our voices to be heard, and being an underclassman, I feel like having two more years and being in a place of leadership is important."
What do you enjoy about this club?
Taylor Aska: "It's a safe space for black people to come together and talk about current issues…we can all share our personal experiences."
How does this club give back to the community?
Reina Smith: "I think the club offers a safe space and a voice to a group of people that aren't represented in school faculty and events and gives the black population of UC a community."
Why did you join this club?
Emerson Mckindra: "I wanted to join a club where we discussed the important qualities of the Black community."
Connection Crew
During the Scheduled Dedicated Student Need day, the Connection Crew visited for a media day to capture great moments. Mr. Lambert, the connection crew leader, stated, " Engaging with the other students and being part of the day and having the responsibility to show all the different things the students are enjoying during the day is what is most enjoyable." The Connection Crew members enjoy spreading the word about the entertaining events. The Connection Crew plans on giving back to the community while planning fundraisers for Children's Hospital and having Bake Sales. "Through that, we find a good cause to help where we can," stated Lambert. Growing this club and raising awareness is important for students in Connection Crew.
Zumba with the Spanish Club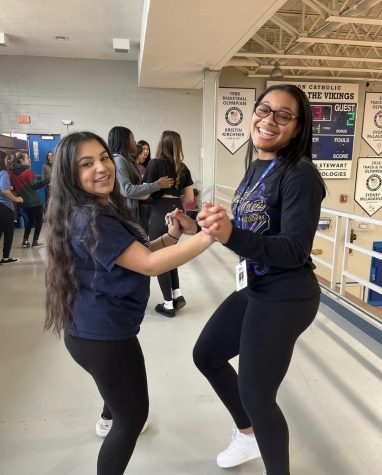 Zumba was held in the gym on the upper bleachers. This was a good time for students to get together and celebrate different cultures through dance. "It's my mental benefit that makes me happy, and I enjoy it. I like being around the people in it", stated Union Catholic freshman Alexa. Zumba is a wonderful, upbeat exercise for the body and mind. Everyone is being kept together in a positive way thanks to the outstanding work of the Union Catholic community.
Gaming Club with the E-Sports Club
The Gaming club is one of the clubs that connect people here. The gaming club provides a platform for students to interact and socialize with each other. Students can connect over a shared interest through gaming and develop relationships beyond the gaming club. Playing games can help students build confidence in their abilities, especially if they succeed at challenging levels or against tough opponents. This confidence can translate to other areas of their lives, such as academics or sports. Cameron Jones, a gaming club and community regular, stated, "The community is what I enjoy about the club. You can make so many friends from what you're good at. I've been in the club since last year, but I run it now because my brother went to college. It teaches students that they don't need to be afraid to get into what they are good at. It gives back happiness, and people going through hard times can prosper from gaming. I benefit by working on my skills because the more you work on your skills the more you have a chance at getting to the big leagues."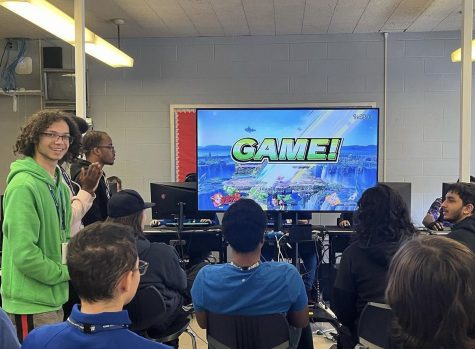 Paper Football Tournament
Of the many clubs that stood out on SDSN day on Friday, the paper football tournament was another club that stood out. Paper football is fun because it is easy to learn, can be played almost anywhere, and requires minimal equipment. All you need is a sheet of paper and a flat surface to play on, such as a table or desk. The game involves flicking a folded paper football across the table and trying to score points by getting the ball to hang over the edge of the opposing player's side. The opposing player can defend their goal using their fingers to block the ball or intercept it. Nick Pellegrino is a regular in the paper football club and stated, "I enjoy many things about the club. The community is really what brings us all together. It's a nice way to compete safely with friends and have fun. I have always been in the club, and I have always found it fun. I benefit from this because its a fun way to connect with people I don't know."
Make Bookmarks for Students
On this special SDSN day, the bookmark-making club took an incredible role in contributing to the Union Catholic community as a whole. The club consisted of students who had found a particular interest in the club on just that Friday and students who were actively regular club members year-round. These creative and generous students spent this period artistically making and designing bookmarks for other students and loved ones while also learning about and discussing different genres of books. The idea of giving to others certainly attracted participants to the craft. Furthermore, the club's title alone drew students in to enjoy a free period of relaxation from school work. Multiple students stated, "It sounded calming and relaxing from a stressful week." Each student's artistic abilities allowed many to meet new people and make friends, bringing students closer together.
English Literacy Club – Sort and Organize Books
Just another perfect example of a club contributing to a good cause is the English Literacy Club. This club offers the opportunity for students to volunteer to sort and organize boxes of books for the less fortunate, public library donation centers, consignment shops, and teachers searching for a supply of interesting books for their class bookshelf. The English Literacy Club's fame sparked years ago at UC, starting as an international club that donated books to schools and centers from around the world that was donated by foreign exchange students attending UC. Unfortunately, the English Literacy Club halted its activities after the Covid-19 pandemic. Luckily, this charitable club was again brought forth to Union Catholic students this year. Students in this particular club can participate in its activities on every SDSN day or can assist in organizing the books for that specific class period. All students willing to generously donate their time to give to others and support readers of all ages around the country carefully separated, ordered, and arranged boxes and piles of various books, categorizing them by genres such as fiction, nonfiction, religious, etc. The English Literacy Club provides the club members a unique opportunity to spend time with friends and fellow students while working for a good cause and giving back to the community. It achieves this goal by "spreading knowledge" to others through the words and depictions in the literature that dabble in several stories from countries and cultures worldwide.