Chart Topper (Taylor's Version)
Author's analysis and ratings for Midnights by Taylor Swift.
The year's most anticipated album was released on October 21, 2022. Spotify streams reflected this anticipation by making it the most streamed album in a single day in Spotify history. Taylor Swift's Midnights album recounts love, loss, and revenge. Possibly the most intriguing of her albums, Swift captures an aspect of each one before her 10th studio album. "Midnights is literally the chaotic drunk versions of those earlier songs," one user on TikTok reports. We couldn't agree more. In this article, we will delve into the meaning of each song, with ratings and rankings. (Does not include her seven-track, 3 am Surprise.)
Lavender Haze: Starting with the Midnights album's first track, Swift sets an optimistic, upbeat tone. The song revolves around Swift's relationships and expectations to be in and keep one. Her tempo and presentation of words are similar to the song "I Think He Knows" from her Lover album, as they are both songs about pining, love, and expectations. 7.5/10
Maroon: Styled like 1989 and Lover, with lots of vivid imagery used to describe the feeling of love and loss. Enjambment depicts the feeling of falling in love quickly and how fast-paced relationships can often lead to disaster. This song is similar to "King Of My Heart" from the Reputation album, with a dramatic presentation of her thoughts. 8/10
Anti-Hero: Fans' favorite song on the album. It is apparent why it is currently the most streamed song on Spotify. Self-conscious lyrics take hold of the song, externalizing her internal problems. "It's me. Hi. I'm the problem, it's me." starts each chorus, connecting with listeners and providing comfort in knowing that they are not alone in their depressive thoughts. 8.5/10
Taylor Swift, Lana Del Rey, and Jack Antonoff (@taylorswift IG)
Snow on the Beach: Featuring Lana Del Rey, the two women's voices blend to make one cohesive song in an almost ethereal way. It is a slow ballad describing the strangeness of someone falling in love with Swift. She describes surreal and two beautiful things that should seem like unlikely pairings but combine to make something breathtaking. "Snow on the beach… Flying in a dream, stars by the pocketful" are all things that the artist feels are incredible but realistically improbable. "Illicit Affairs" from the Folklore album both sound similar, despite being about two different types of love.
9.5/10 (It would have been 10/10 If Lana Del Rey had her own stanza).
You're On Your Own, Kid: THE BRIDGE!!! A song with gut-wrenching lyrics that depicts what depression feels like and the loneliness around it. The phrase "you're on your own kid" occurs throughout the song, putting into words what many with depressive thoughts face on a daily. Taylor Swift touches upon the topic of loneliness and betrayal throughout this album, as well as love and nostalgia. Despite the four being on opposite ends of the spectrum, Swift manages to blend each one of these aspects into one track. 9/10
Midnight Rain: This is yet another song that sounds like it could have been added to the Reputation album. She compares the boy she was in a relationship to "sunshine" while Swift was "midnight rain" to opposite things. This track may reflect on the song "Champagne Problems" from two prior albums. A rejected proposal is mentioned, leaving Swift feeling nostalgic when reminiscing about her decision. 8/10
Question…?: Swift reminisces about her past failed relationships. Throughout the 3-minute track, Swift samples other songs such as "Out of the Woods" and "Wildest Dreams." Hypothetical questions plague the artist, and she uses these lyrics to express her embarrassment, anger, nostalgia, and any confusing emotions Swift has felt during this particular period. 6/10
Vigilante album: To the surprise of her fans… her first track title has a curse word in it. This song style would fit perfectly into her Reputation album as it references Swift's former managers, Scooter Braun, and Kanye West. The lyrics reflect the vengeful scenarios she longs to execute. 8/10
TaylorSwift/Youtube
Bejeweled: Surprise! Another song that could be added to the Reputation album! This song revolves around Swift's optimism and confidence that she is relevant without a man. (So true Taylor). She often finds herself better off WITHOUT said man. Throughout the song, she puts the mysterious man into his place and claims her metaphoric crown again. 7/10
Labyrinth: THE song for hopeless romantics, "Labyrinth," is about falling in love again after a breakup that has deeply affected her. Despite being slightly scared to fall in love again, Swift can not help but do so at the thought of this person. This song beautifully crafts the anxiety around the fine line between love and heartbreak. 9/10
Karma: Fans theorize that this song is about Kanye West and Scooter Braun, two men who have hurt Swift differently. People are "addicted to betrayal, but (still) relevant." Another song that could easily end up on the Reputation album, as parts of her album were inspired by her infamous feud with Kim Kardashian and Kanye West. Fans find it ironic that as Taylor Swift is living off of the "new album high," West is in the midst of rapidly tanking his net worth. (And potentially his mental health.) Karma's a comforting thought. 7/10
Sweet Nothing: A melancholy song that reflects on a past love. A "sweet nothing" is often a romantic tidbit that people in love say to each other. Despite seeing an end to this relationship, she felt drawn back toward him and his words, inferring that she would never be over him. She took comfort in this mysterious man, and the melody proves so through soft melodies. 8.5/10
Mastermind: Her main message is that "nothing she does is accidental." True to believe as Swift strategizes her albums, lyrics, and promotional YEARS before it is public to the media. She goes on to emphasize the fact that everything is done with a purpose, even down to her relationships. "Mastermind" is for the girlies that learn everything about their crushes before talking to them. 8/10
This album definitely ranked top five out of all her albums, considering it reflects on aspects of each. From her marketing to lyrics to symbolism, the atmosphere surrounding the Midnights' release was unique to that of every other studio album.

Leave a Comment
Your donation will support the student journalists of Union Catholic High School. Your contribution will allow us to purchase equipment and cover our annual website hosting costs.
About the Contributor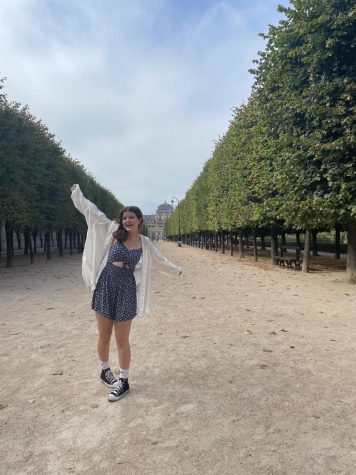 Adela Rakoski, Editor In Chief
Adela Rakoski is a senior at Union Catholic. She is the editor-in-chief of The Prophet, having worked on it since transferring to UC during her junior...